Behavior Vets created this webinar about canine body language and relaxation games to raise money for homeless animals in Ukraine that have been affected by the war in that country. We raised nearly $4,000! 100% of the proceeds was donated to the IAABC Foundation. The donations were shared directly with Małopolska Organizacja na Rzecz Natury, in Poland and Shelter Friend in Ukraine, who are helping hundreds of animals desperately in need.
The fundraiser is now over, so we are sharing this webinar with you so that you may learn about how to help de-stress your dog. 
Are you curious about your dog's body language and behavior? Does your dog struggle to learn because they are too excited, stressed, anxious, or upset? Wildlife biologist turned trainer Ferdie Yau (MA, CPDT-KA) will talk about signs of stress in dogs and demonstrate some of his favorite exercises to help dogs relax. After many years of helping dogs who exhibit behaviors related to fear, anxiety, or aggression, Ferdie understands that dogs struggle to learn if they are too stressed or do not feel safe. 
This webinar will teach you how to recognize subtle signs of stress in your dog before it escalates over the dog's threshold to regulate their own emotions. In addition, you will learn a few useful and simple exercises to help your dog relax during stressful situations. You will learn exercises that are helpful for all dog owners who would like to be better at communicating with their dogs and help them cope with the daily stress of life. As a result, you will find that you will become more confident at providing social support and form a deeper connection with your canine companion. 
Included in this presentation is a Q&A session from the recorded presentation.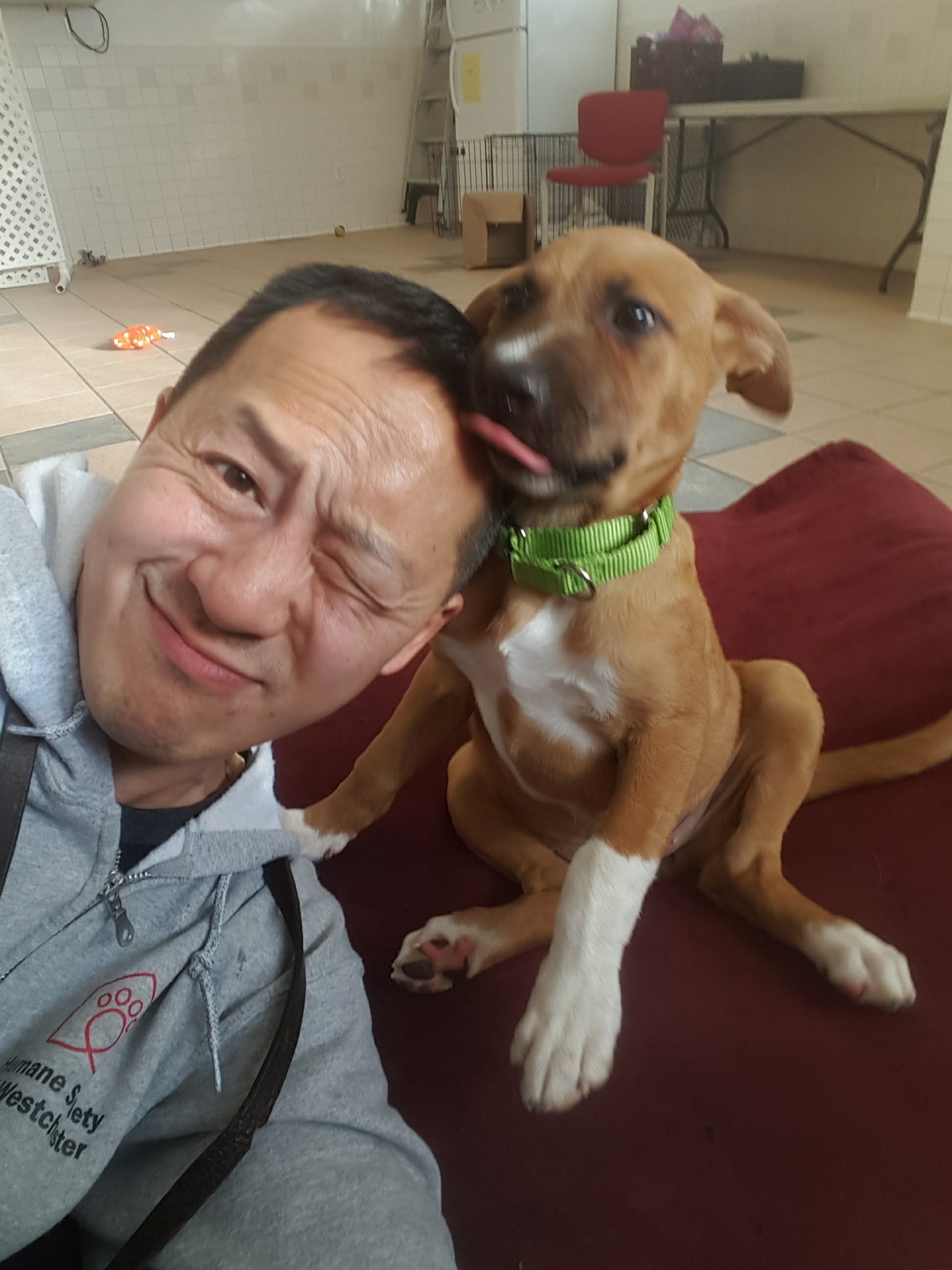 Ferdie Yau, MA, CPDT-KA
Director of Shelter & Community Outreach
Behavior Consultant
Ferdie Yau (CPDT-KA) has an MA in Conservation Biology from Columbia University (2007) and a BS in Natural Resource Ecology and Management from the University of Michigan (1998). Ferdie was a zookeeper and trainer both the Central Park Zoo and Bronx Zoo from 2002 to 2005, and trained dozens of exotic species including California sea lions, river otters, Arctic foxes and polar bears. He is the Staff Trainer at the Humane Society of Westchester and an instructor at CATCH Canine Trainers Academy. Ferdie studies urban coyote behavior and population dynamics with the Gotham Coyote Project.
Ferdie's approach to behavior training and animal welfare was deeply influenced by his experience caring for Gus, the iconic polar bear of the Central Park Zoo. Gus was labeled "neurotic" by the public and media because he repetitively swam laps around the pool. Refusing to watch him suffer, Ferdie pioneered the development and implementation of a progressive training and enrichment program for the polar bears that reduced stereotypic behaviors related to stress and anxiety.
Ferdie's graduate research led him deep into the jungles of Belize in 2006 to study the behavior and population dynamics of jaguar and their prey. Following graduation from Columbia University, Ferdie went on to become an ecologist for the NYC Department of Parks and Recreation from 2009 to 2013, where he implemented and managed multi-million dollar projects to protect and restore natural habitats and wildlife to the Bronx River.
Ferdie has been training dogs and educating their humans in New York City and Westchester County in NY since 2007. He founded Sits & Wiggles Dog Training in 2009 and joined Behavior Vets in 2020. In his role as the Director of Shelter and Community Outreach, Ferdie fights for better animal welfare and improved access and awareness of humane treatment and training methods for all animals.
Ferdie lives in the Bronx with his wife and retired coyote scat-detection terrier mix, Scout. In his free time, he enjoys exploring nature, hiking, cooking, and eating well!