Are food bowls boring for your dog? Is your dog bored? Does your dog keep interrupting your Zoom meetings? Do you want to make meal times more fun, but not know where to start? 
Join us for a tour of some super easy, homemade food enrichment ideas, all using things you probably have lying around your house. Take a small, easy, fun step toward enriching your dog's lifestyle! Learn ways to keep your dog busy while you're busy doing other things! 
Included in this presentation is a Q&A session from the recorded presentation.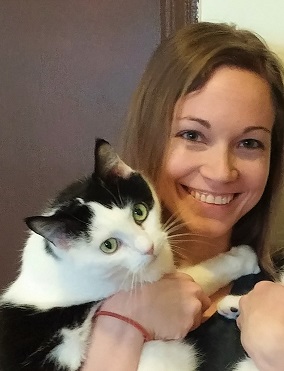 Jennifer Abrams, MA, ACAAB
Animal Behaviorist & Behavior Consultant
Jennifer Abrams, an Associate Certified Applied Animal Behaviorist, is a CT native who is proud to call NYC home. She earned her A.S. in Veterinary Technology and a NYS Veterinary Technicians license in 2011, a B.S. in Interdisciplinary Studies with a concentration in Animal Behavior from SUNY Empire State College in 2013 and an M.A. in Animal Behavior & Conservation from Hunter College in 2019. Her thesis, "Trazodone as a mediator of transitional stress in a shelter" was published in the Journal of Veterinary Behavior in 2020.
Before joining Behavior Vets, Jen spent nine years at Animal Care Centers of NYC. She started as a licensed veterinary technician and quickly became a Behavior Supervisor, Behavior and Enrichment Manager, Senior Manager of Behavior and Volunteer Programs, and finally the Director of Animal Welfare. She developed best practices and organizational policies to improve the physical, mental, and emotional well-being of the companion animals under ACC's care and oversaw the behavioral evaluation and environmental enrichment program as well as the canine behavior training and outreach program.
Jen has spoken at the Animal Behavior Society, National Council on Pet Population Research Symposium, Canine Science Conference, and Humane Society of the United States Animal Care Expo. Her work has been featured in the Association of Shelter Veterinarians newsletter, The New York Times, and on today.com. She was featured on Episode 6 of "Shelter Me: Hearts and Paws" on PBS.
In her spare time, Jen likes to cook, swim, and hike. She is also a sports enthusiast with an affinity for the NY Mets and the LV Raiders. She lives in Brooklyn, NY with her boyfriend.